Country Painting 
VIDEO COURSE Bee Kind
Learn COUNTRY PAINTING with Countryisa!

The style of Country Painting that fascinates and warms up.
Learn Country Painting in the comfort of your home HOW? read below…
he Video Course of Country Painting for You! How can I improve in the shades of Shadows and Lights? What are the right tools to really help me get the best results in just a few steps?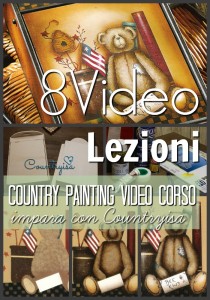 Through the realization, together, of this amazing project by Maxine Thomas entitled 'Bee Kind'
You can choose whether to paint it on a wooden document holder (A4 format) to be placed on the desk or a wooden cabinet (also in A4 format) to hang on the wall.
From beginning to end all the steps explained with simplicity, you will realize this beautiful project. Guaranteed!
This 'Video Teaching' was Authorized by the copyright author Maxine Thomas
This little bear is so beautiful! If you look into his eyes, he seems to follow you with his eyes even if you move.
It will be so fun to paint it that you want to make others, for me it was like that!
With my Country Painting tips you will be able to immediately capture all the important elements to improve immediately and get an excellent painting.
Do not hesitate to contact me to ask for info and explanations. I'm always happy to teach and help get a great result. with my painting tips.

 

Fill out the form below and you will receive an email to your address
with all the information related to the Video Course consisting of 8 lessons,
which materials are used, how to pay and how to access the reserved area!

I wait for you!!!

INSERT YOUR NAME, SURNAME AND EMAIL ADDRESS

then go to your inbox and confirm your email address,

TO RECEIVE ALL THE INFORMATION IMMEDIATELY.