I've been in charge of Country Painting for about 15 years
I teach and paint with this decorative technique for many years projects designed by me and other artists.
I created a path that allowed me to achieve tangible results, it has nothing magical, it's just a step by step method.
Here you will find all the resources you need to get started and the solution to the difficulties you will encounter in your creative path.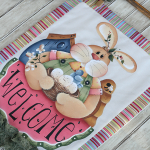 Lots of tips for making the best and buying suitable products.
I offer online video lessons where I paint alone, in a few clicks without the need to move to reach me! Countryisa helps you develop your creativity, optimizing your time in a few clicks. With a new web interface for any support you want to use it is desktop or mobile. Go to the COURSES section at the top of the TAB and you will see the Calendar to find out the upcoming dates in shops and fairs, or the Video lessons to buy.
I have been dealing with Mixed Media for about 5 years and about 3 years of Watercolor and Calligraphy.
I combined these techniques and I teach and paint helping people to express themselves and have fun. I offer personalized courses of these techniques at SHOPS, On Line, Associations, Private and Fairs. I sell my craft products and also the tools to make them in my ecommerce (Shop at the top of the tab) when I'm asked what you do? it is not always easy for me to sum it up I try:
I create and SELL custom-made paintings and sewn items: wedding favors, wedding and birth gifts, home and personal objects.

I recycle and customize doors, tables, bedside tables and objects of the past depending on the environment in which you want to replace them.

I coordinate and realize customized settings: displays and windows, corner shops, brands and packaging.