SANTA & BEAR Video Lesson of Country Painting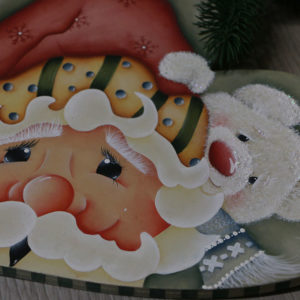 Some of you have seen the photos of the phased work on my Instagram profile, It's finally finished guys! : D Now there is! 🙂
This Bear painted with Country Painting is very sweet! It looks so soft and soft, and then two faces like that … they are irresistible … they make you smile!
I hope it's so fun to paint it as it was for me. Do not hesitate to contact me to ask for info and explanations. I am always happy to teach and help to get a good result, with my painting tips.
Come and learn how to make this adorable Santa & Bear (Isabella Pasquato project) and get in touch with the world of Country Painting! 🙂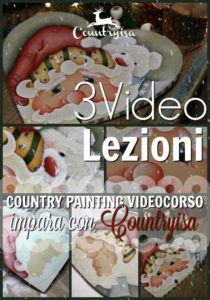 What you will learn:
I show you step by step how I did this painting, no leap of parts (3 video lessons of about 30 minutes).
Supported by explanations in Italian in PDF and paper pattern
Use of specific brushes.
How to get a beautiful Bear fur.
How to get a watercolor background
There is no time limit to the restricted area,
This online class (streaming video) is suitable for everyone, convenient for just € 48.00 –
In promotion launch LIMITED OFFER until the end of February
Sign up now!
You can purchase this video course directly from my store to the page
"Santa & Bear" 3 LEZIONI – VIDEO CORSO ON LINE
If you want to buy it with a different method, write me an email, you can pay with a Postepay or Bank Transfer
If, however, you want to buy the DVD (for connection problems or just see it on TV) is included support (a heart in plywood fir) including shipping buy it using the page of my store at a price of 68 €
Recommended materials for this Country Painting Workshop Video Course SANTA & BEAR
Country Painting Video Lesson S
ANTA & BEAR


(You can use replacements/substitutes if you do not have everything from the list)
Brushes: Plate for bases: 20, 10 , 2; Round nr 2; Angular 1/4 e ½ e 3/4″; Mop da ½ e 3/4; Liner 10/0; Script 18/0; Fabric Round nr 8 else Lunar Blender 3/8"; ¼ and 1/8 'plinth brush
Acrylic colors Decoart Americana: Bleached sand, Shale Green, Midnite Green, Toffee, Rookwood Red, Camel, Shading Flesh, Honey Brown, Light Cinnamon, Light French Blue, Deep Midnight Blue, Antique White, Warm White, Titanium Snow White, Neutral Grey, Dark Chocolate, Lamp Black.