LOVE ME BEAR Video Course of Country Painting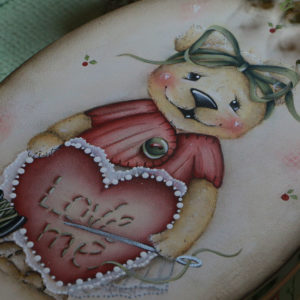 Have you ever thought about turning an old candy box to make it unique and really personal? With your colors, your stroke, my design and a little patience, it will be an object on display on your desk.
Today I would like to tell you about this project, Love me Bear, a video course divided into 4 lessons, each of about half an hour, in which I show you how this technique that I love so much allows me to create unique objects, and how to give new life to a box, or the cover of a notebook or a diary, and starting from nothing you will give shape to a personalized object.
You will learn how to mix colors to make a fluffy fur, how to insert objects to fill a bare background, and how a brush makes the difference in the use of color.
This little bear painted with the Country Painting tecnique is very sweet! soft and fluffy, and … irresistible!
I hope it's so fun to paint it for you as it was for me. Don't hesitate to contact me to ask for informations and explanations. I'm always happy to teach and help so you can get a good result, with my painting tips.
Come and learn how to make this adorable Love Me Bear (project by Isabella Pasquato) and get in touch with the world of Country Painting!
There is no time limit in the restricted area.
What you will learn:
I show you step by step how I did this painting, I don't skip any part (4 video lessons of about 30 minutes)
Supported by explanations in Italian and pattern PDF
Use of specific brushes. Floating, 3-brush shading, drybrush, stippler
How to get a nice bear fur with the wash technique
Three-layer shading. Dimensions and width of the shadows
Lace effect
This online class (streaming video) is suitable for everyone, convenient for just € 54.00
In promotion launch LIMITED OFFER
Sign up now!
LOVE ME BEAR Video Corso di Country Painting
If you want to buy it with a different method, send me an email, you can pay with Ricarica Postepay or Wire transfer.

Recommended materials for this Country Painting Workshop Video Course Love me Bear:
Country Painting Video Course LOVE ME BEAR
(NB: You can use other options, if you do not have everything from the list)
Brushes

: Flat for bases: 20, 10, 8, 4, 1 – Round nr 2 Filbert 4, Angular 1/4 and 1/2 and 3/4 "- Mop of 1/2 and 3/4 – Liner 10/0 Script 18/0 or 10/0 – Fabric Round nr 8 or Lunar Blender 3/8 "- Brush with 1/4″ and 1/8 " plinth

American Decoart Acrylic Colors

: Light Moka, Warm White, Camel, Cocoa, Melon, Antique Rose, Rockwood Red, Heritage Brick, Celery Green, Plantation Pine, Green Tea, Gray Sky, Deep Burgundy, Antique Maroon, Titanium, Snow White, Dark Chocolate, Bittersweet Chocolate, Black Green, Lamp Black